It would be a slight understatement to say that this week in September, National Truck Driver Appreciation Week, is one of my favorites each year.  
Anyone who follows NTI's social channels or my pages on Facebook or LinkedIn, listens to my shows on SiriusXM, catches one of our speaking engagements live or on a podcast, or consults with our team at NTI knows well: We love professional drivers. That love is at the very foundation of our company, and we strive to make it the foundation of every trucking company and private fleet that we interact with.  
Having a week every year dedicated to focusing solely on drivers — and seeing the outpouring of love, appreciation, admiration, and celebration — is a powerful engine for our industry.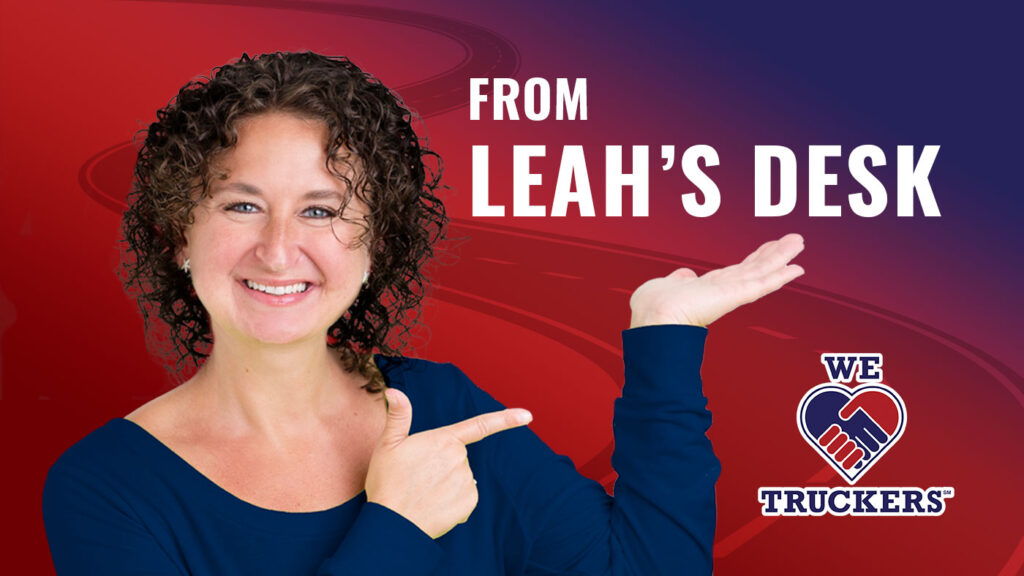 So powerful, that we should leave it running, and we should use the momentum NTDAW provides to accelerate into showing this love, celebration, advocacy, and appreciation the entire year.  
The company swag, the cookouts, the social media posts — those are fantastic and necessary, and they're a fitting way to celebrate your people during Appreciation Week. But they only scratch the surface of what it could look like to show drivers sincere, ongoing appreciation for their work throughout the entire year.  
Whatever your role is at your company, you can over-deliver on drivers' expectations. You can view drivers' issues from their perspective with empathy and ownership. You can be loud and clear every day that you love and appreciate drivers in the way you do your job. And you can permeate that love throughout your company by demonstrating it on a daily basis.
In the spirit of yearlong appreciation for drivers and their causes, here are 10 suggestions I'm offering every fleet to consider and implement in their own way to express appreciation and celebration for professional drivers all 52 weeks of the year. In the meantime, be safe and well. -Leah
Profess your love and appreciation for drivers every week, all year: It's never been easier to connect with drivers consistently with internal marketing programs and to thank drivers both publicly and directly. Harness the power of social media, online content, email newsletters, voicemail drops, text messages, in-cab devices, and every other medium available to connect and engage with your drivers every week in authentic and sincere ways. Remind them how meaningful their work is. Tell them how much you appreciate them. Ask them what's on their mind and how their family is doing. Let drivers know you're proud they choose to work for you, and constantly re-sell your company's connection with them. Show up at terminals and truck stops to greet your drivers, offer them care packages and company swag, and talk face to face with them. 
Work with truck stops and customers to improve conditions at facilities drivers frequent: Your fleet spends millions of dollars annually at truck stops in fuel and maintenance costs. Truck stops are also drivers' oases on the road. Work with your contacts at those companies to ensure they're offering drivers clean and accessible parking lots and showers, as well as nutritious food options as alternatives to fast food meals. Also, regularly audit your drivers' experience at shippers' and consignees' facilities. (Stay tuned for more on both of these topics upcoming in the NTI blog.)
Be a leader with paid family leave and childcare benefits: This is an area where trucking has a chance to be a leader. Not by simply offering FLMA compliance or offering six weeks of family leave for drivers who have a newborn in the family. Offer true paid leave for the parent of a new child or when other family needs arise that keep someone away from work. That goes for men and women. We hear this feedback often from drivers, and they feel that absence of paid family leave. When there's a birth in the family, women are expected to be back quickly, and men often see very limited leave. Also, as we explored in a blog piece earlier this year — find other opportunities to support families at your fleet. Offer robust childcare benefits and other creative policies. Evaluate your rider policies for parents who want to bring their kids to work with them. Fleets can be leaders in providing these benefits to their people for the most important situations in their personal lives.  
(Bonus tip: Provide a phone and cell service for your drivers so they can stay connected to their families more easily and frequently while they're away. This is a great benefit that many private fleets offer, and it's one that for-hire carriers should add to their programs, too). 
Support causes truckers care about: Drivers see what you do and don't do for the industry, and they take it personally. Evaluate the myriad of great non-profits, charities, and associations that support drivers, and choose a few to support financially, with volunteer work, and as members. Let your drivers know you're giving to these organizations as a show of support for them. When drivers see and know you're giving back to causes like Truckersfinalmile.org, Meals For 18 Wheels, St. Christopher's Fund, Women in Trucking Foundation, and others, they see it as a show of support for all drivers, even those that may never have a need for those organizations.  
Focus on health and wellness: We explored this topic in-depth last week in the NTI blog as part of our ongoing driver appreciation coverage, but it bears repeating: Pour effort and resources into driver health and wellness programs. Make it a core component of your fleet's operations. It's the right thing to do for your drivers, and it pays so many dividends for their life, their work, and their ability to stay employed and engaged at your fleet.  
Provide a five-star onboarding experience: Honestly evaluate your driver onboarding experience and see where you can improve. Provide quality travel, lodging, and meals for onboards. Provide clean, quality equipment that matches what you told them in the recruiting process. Make sure drivers' first load assignments are consistent with what they were told in the recruiting process. Leave a good impression if a driver doesn't work out during the onboarding process.
Ensure schedules and routes are fair and consistent: Drivers crave transparency in their pay and their schedules — and it's a strong show of appreciation for drivers to provide that. They want to know when they'll be home and be able to participate in their family life. Also, don't leave your newest drivers with the toughest schedules and routes. We see this often at for-hire and private fleets alike: The most senior drivers get to choose their loads, routes, and schedules, and it consistently leads to frustration for newer drivers and is a key contributor to early turnover. Provide fair, consistent, and transparent schedules, and try to limit drivers' unpaid, unproductive time by offering guaranteed pay or other programs to prevent drivers' paychecks from yo-yoing week to week. 
Be honest and transparent in job ads and recruiting calls to establish immediate trust and show respect: Another cause of early turnover is the pervasive expectation gap between what drivers though a job would be based on the recruiting process and what the job actually entails when they show up. Advocate for drivers and show your appreciation by ensuring your job ads and recruiting phone calls align with the job functions, pay, home time, equipment, routing, and all other components. We explored this topic in depth last month in the NTI blog. 
Offer competitive pay and benefits: Hundreds of thousands of new drivers have entered the industry over the past two years, and they came for the promise of a secure and rewarding career. Ensure your pay and benefits are competitive, attractive, and rewarding, and make sure you're consistently evaluating your compensation programs so they're in line with your hiring areas, labor level, and trailer types. Also, be sure to incorporate driver pay and benefits data into your fleet's sales and pricing process so that your recruiters have adequate room to offer competitive pay and benefits for the business you're selling.
Be active in your community: Represent your company in local events like parades, charities, school functions, and other local events. Instill pride in your company and for those who work there. Engage with the next generation of drivers in high schools and community colleges. Represent your fleet at area tech schools. Give back to local charities and other organizations. Inspire others to want to be in trucking and to establish trucking jobs as first-choice careers.
All month in the NTI blog, we're celebrating National Truck Driver Appreciation Week by offering tips and programs that fleets can incorporate to show year-around advocacy and appreciation for their drivers. Read more in the NTI blog.