MENTORSHIP PROGRAMS LIKE LEADHER TRUCKING PROVIDE A SPARK FOR EXPERIENCED AND NEWCOMER WOMEN DRIVERS ALIKE
I've been fortunate in my career as an HR and recruiting leader at a large truckload carrier, in my nearly eight years at The National Transportation Institute, and in my six years on the Board of Directors and as chair of the membership committee of the Women in Trucking Association to build relationships with so many amazing women in our industry.
That obviously includes many women who have made a career driving a truck — those with young families they're trying to support, those who've pivoted away from other careers to find a new life behind the wheel, and those who joined trucking later in life as a second career.
One through-line that's developed in meeting with all of these women over the years is the power of mentorship in our industry.  
Experienced drivers want to mentor new drivers. And new drivers thrive with the support of an experienced mentor helping them navigate every aspect of learning to drive a truck professionally and growing into an experienced driver themselves.  
Mentorship programs build community in a way that helps experienced drivers and new entrants alike feel more engaged with their careers and this industry, and more likely to stick around.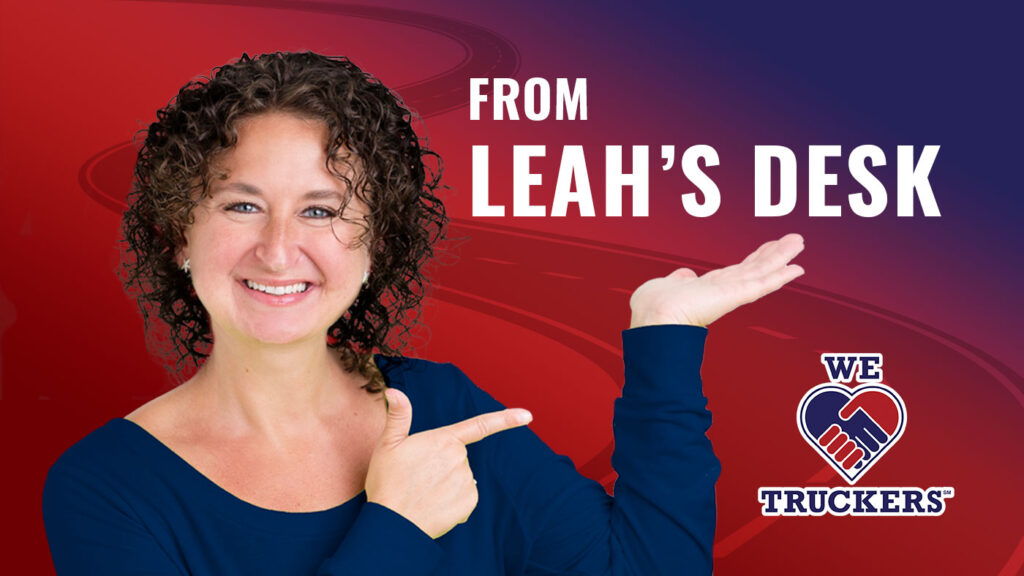 So it's incumbent upon fleets to not only help their new-entrant female drivers find that sense of community and support, but also to facilitate the ability of experienced drivers to connect with and mentor new entrants.  
This will look different in every fleet. Maybe your fleet offers women's networking events or support groups geared toward first-year female drivers. Maybe you already have a strong internal mentorship programs. If so, those are all fantastic contributions to this growing — and vital — segment of our industry.  
For fleets looking to set up a program but aren't sure where to start, our industry is fortunate to have a stellar new resource that's growing and looking for mentors and mentees alike.
LeadHER Trucking, developed by the LeadHER Alliance and the Women in Trucking Association, gives new entrant drivers access to a dedicated mentor, monthly and quarterly enrichment and educational sessions, and support, guidance, and motivation for women in their first year behind the wheel. 
My friend Sarah Hilton, who manages LeadHER Trucking, put it this way, and I couldn't agree more: "We want women to see and feel success in this industry. We're losing too many women in their first year. They want to be truck drivers and they have a vision for their career, but in their first year, they're quitting. If they had a mentor and a community to make them feel supported and understood, that goes a long way in helping them feel successful and stick with their new career." 
Hilton relayed one anecdote, illustrative of stories she hears often from LeadHER's mentees. Last year, a first-year driver was facing her first run into a tough winter storm, "and she was getting into her own inner conflict" about it said Hilton. She called her LeadHER mentor, who walked her through it, coached her, and helped build her confidence back up. "Now, that driver will tell you she can take on any winter storm," said Hilton. "She had that immediate connection with someone she knew and trusted who could give her tough love and say 'you've got this.' That's what LeadHER Trucking is all about."
Mentees also lean on mentors for support and guidance through raising a family while out on the road, working with trainers (who are often male) and managing the challenges and questions that arise from that dynamic, and developing skills to become an owner-operator, for those interested in trucking's entrepreneurship opportunities.  
With LeadHER only in its second year, Hilton says they're working to hard to grow their number of both mentees and mentors, and she encourages carriers to reach out to connect their experienced women drivers with the program and to offer LeadHER as a lifeline resource to their new drivers.  
Likewise, I strongly encourage motor carriers to do the same.  
Women entering the industry want to see examples of other women being successful doing the same job. They want to see women who've moved up the ladder within fleets. They're drawn to organizations where they see women in leadership roles because it tells them there's an opportunity for them at that fleet, too. Does that mean they want to run the company some day? Probably not. But they do want to see that there are opportunities for advancement, and they want to work in an environment that supports and celebrates women at all levels of the company.   
Critically, they want to feel they have backing of the existing community of women who already know the ropes in trucking and how to navigate all the various successes and setbacks this industry brings. 
That's where robust mentorship programs like LeadHER come in. Even for fleets who do already have some internal programs, pairing that with an external resource like LeadHER tells propsective and current drivers alike that you stand behind that mission.  
If you have female drivers who are doing a great job and have at least three years of experience, refer them to be a mentor in the LeadHER Alliance. They need more mentors, and they need more drivers to mentor. This gives your company the ability to stand out in the industry, to recognize your own people, and to provide a needed service for the greater good of our industry. In the meantime, be safe and well. -Leah
Here's a quick rundown from Sarah Hilton about how LeadHER works and how to get connected:  
Drivers can contact LeadHER directly to become a mentor or mentee. Carriers can also connect with LeadHER to offer both mentors and mentees, and to sponsor new pods within LeadHER

LeadHER pods are made up of 12 to 15 mentees, who are then matched with a one-on-one mentor. Mentors must have at least three years of experience as a professional driver

The program is free for mentors and mentees, and it relies on sponsorships from motor carriers and other industry organizations. NTI is a proud ongoing sponsor of a LeadHER pod

Every mentor-mentee relationship is different. Some drivers talk regularly on the phone, says Hilton, while others do regular Zoom check-ins. Some prefer to text message. Some talk daily, and some do weekly check-ins. The network also helps alert members to events or other in-person meet-up opportunities.

 

Each pod lasts 10 months, with a definitive start and finish date. Every month, LeadHER offers enrichment sessions on topics like finance, relationships, mindset, goal planning, and more

To connect with LeadHER Trucking, email

lead@leadheralliance.com
One parting note from Sarah: "For carriers, participating in LeadHER shows your compassion and your support for your women drivers. Sponsor a pod of new drivers so they can have the success they strive for. Refer your experienced drivers so that they can help others feel supported and understood. We believe that every single woman going into trucking should have a mentor for their first year, and we need carrier involvement to make that a reality."
The National Transportation Institute in March explored several topics on making trucking a more attractive career for women. Click here to read those posts.