In The National Transportation Institute's work with motor carriers in recent months, this has become an increasingly common refrain: "I've had to start laying over drivers for the first time in two years" — or some variation thereof.  
If that's true for your fleet, or if layovers between load assignments have become more frequent for your fleet as the freight market has slowed in recent quarters, it's time for a quick check in on your company's layover pay policy. Not just the amount and structure of those policies, but also in how your driver managers, dispatchers, and other points of contact for your drivers communicate about layovers and how they show up in drivers' paychecks.  
For those who've been in trucking for some years, layovers obviously aren't new. But for the tens of thousands — if not hundreds of thousands — of industry newcomers who've entered over the past three years (both drivers behind the wheel and in-office personnel), this may be the first time they've experienced layovers, especially with any frequency.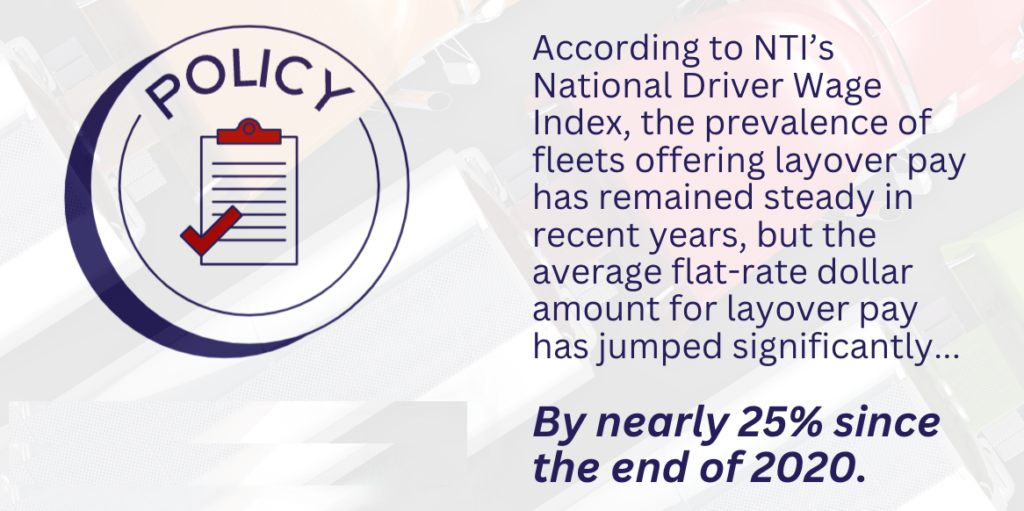 Thus, it may be the first time layovers actually impact drivers' schedules and, more importantly, their earnings. Likewise, it may be the first time your driver managers and retention or HR personnel are fielding questions about layovers and how layover pay works. It's important for these conversations to be informative, empathetic, and helpful, so that drivers understand the situation and so their expectations about their paycheck are clear.  
After all, this forced unproductive time can offset pay they would have received had they been under a load. 
If a driver expresses frustration about layovers, those within your company who communicate with drivers about these issues must be able to comfortably and clearly explain that the freight market has softened, and that you do offer some form of compensation for layover time.  
Also, use these conversations as an opportunity to engage with your drivers beyond layover pay. Let these be springboards to mention other forms of compensation you offer that are within drivers' control, such as fuel bonuses and incentives for mpg targets and network compliance; referral bonuses; ways to boost their productivity so they can run more miles and reach productivity incentives; safety bonuses; and other benefits and incentives you offer.  
➡️ What the data says about layover pay
 ⬇️
The number of fleets offering layover pay has hovered around 75% since NTI began tracking layover pay prevalence in 2015. The flat-rate amount paid for a layover in that time, however, has nearly doubled. And over the past three years, since the end of 2020, the flat-rate layover amount paid to drivers has grown by more than 20%, nearing $100 per layover, according to NTI's National Driver Wage Index and National Survey of Driver Wages.  
How does your fleet's layover pay compare? Use the current freight market as an opportunity to benchmark and evaluate all of the components that make up your driver compensation plan to set your compensation attributes where you want them in the market and versus selected competitors — and to make sure you're communicating and marketing an accurate and compelling compensation plan to both current and prospective drivers.