In a presentation to a few hundred folks packed into a room at a large trucking company a few weeks ago, the question-and-answer session focused on points that I love talking about and have built my career around: Managing recruiting needs, finding new programs to promote driver interest in the short term and the long term, handling the consistent cycle of turnover, and working against the often-transient nature of those seeking work as a professional truck driver.  
That lively back-and-forth discussion — held with people across the company's organization at all levels, from C-Suite executives to entry-level recruiters, HR leaders to operations personnel, and so many others in between — stuck in my mind for the hours, days, and even weeks after.  
I left thinking of that concept in our industry: The culture of fluidity that exists, seemingly perpetually. We as individuals, as organizations and companies, and as an industry have long since accepted it, to the point where we hardly acknowledge it. It's part of the landscape of our industry, and by now it just blends in.
The culture of fluidity has become so engrained — hundreds of thousands of drivers entering and exiting each year, high turnover rates with drivers moving from job to job to advance their career and their pay, recruiting teams working every day just to backfill open seats — that many fleets simply build their recruiting models around that fluidity. I guess that's something like an evolutionary response to the environment in which our industry exists.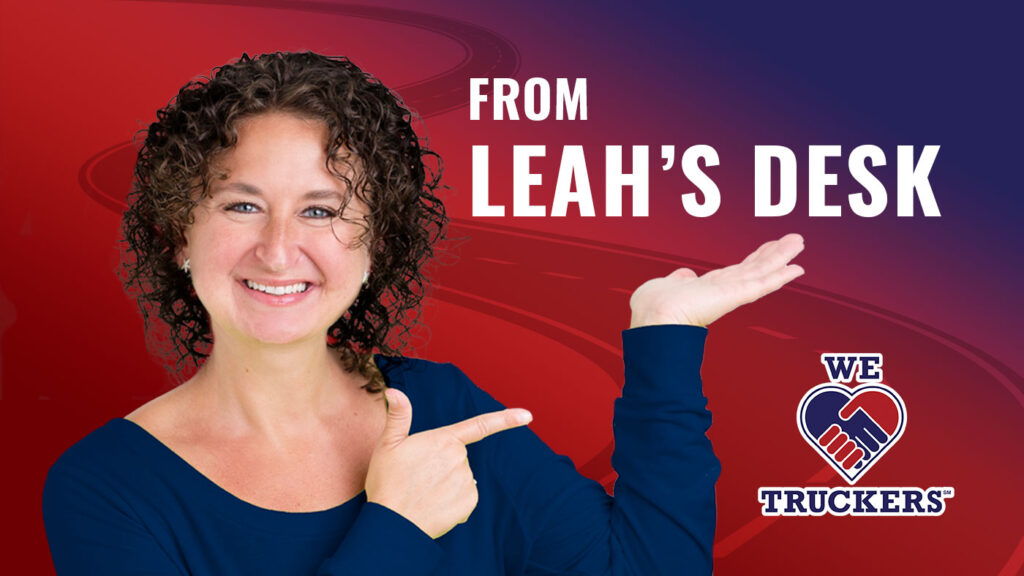 One primary example of this is the experience requirements at many fleets. Of course these aren't arbitrary, and they're often necessary. Insurers, safety managers, operations personnel, recruiting departments, and even CFOs and CEOs must all work in tandem to develop experience requirements to satisfy a range of different needs internally and externally.  
However, with many fleets requiring 18 months, two years, 28 months, etc., of professional driving experience, they're basically saying: We lean on trucking's culture of fluidity to meet our workforce needs.
So in my monthly From Leah's Desk column here in the NTI Blog, I wanted to explore and brainstorm some of my thoughts on that subject, and offer a few reasons why — and strategies for — your fleet to consider in establishing (or re-establishing…) minimum experience requirements:  
You're relying on a long process of other organizations, outside of your control, to find, train, and develop your workforce — and that process is ripe with exit ramps. Opportunities for inexperienced drivers are limited, and those opportunities often expose them only to some of the toughest jobs, schedules, and conditions.
What's a driver's general path to your fleet? As I'm sure you know, it goes something like this: They enter a CDL training program and earn their CDL. Their job options are limited to the carriers that accept drivers with no experience, where they often must work tough schedules and routes for some of the industry's lowest wages, and where they often agree to work for a year or more to payback their CDL tuition. After a year or 18 months, they finally have other opportunities available to them for new jobs and better pay — if they even manage to stick around that long.  
Is that a good first impression of our industry? Are those jobs representative of the types of jobs and experience you offer at your fleet? I'd answer a resounding No to both of those questions.  
As I wrote in Fleet Owner last fall, the "earn your stripes" approach to new entrants is silly, outdated, ineffective, and frankly damaging for our industry. It contributes heavily to industry churn. And it creates major roadblocks to growing the number of experienced and available drivers for your fleet.  
By evaluating your experience requirements and opening your doors to less experienced drivers, you have the opportunity to:
✅ Shape and mold what their trucking experience looks like, as well as create your own workforce, rather than being so dependent on all of the stops a driver must make on their way to meeting your experience requirements.  
✅ Guide professional drivers to see themselves as part of your company, as on your team, as an ambassador of your organization — rather than just a hired-gun truck driver who from the very onset sees their job as transient from company to company.  
✅ Grow interest among younger drivers and to reach generational cohorts Millennials and Gen Z. They simply won't abide the current path trucking offers, especially with so many other opportunities available to them throughout the economy.  
*** 
Private fleets have been taking a lead in this area 
While many private fleets have high safety and experience standards and often recruit top tier talent from the for-hire segment, private fleets increasingly are turning to innovative programs that offer CDL training and high-paying jobs to employees in other parts of their business. These are also big-name, household brand companies that drivers are proud to represent.  
Consider innovative approaches like this at your company. While you may not have pools of workers in other areas, finding your own creative approach to expand your driver pool and your hiring funnel sets your fleet up for long-term success to meet customer capacity commitments and ensure profitability.  
Do the ideas I've spelled out here potentially create costs? Yes. But they also work to mitigate costs elsewhere and set your fleet up for future success.  
Turnover is expensive and highly inefficient. Driver hiring needs erode your fleet's bottom line in any market, especially the current slower freight environment. Finding answers to the questions above might be challenging at first, but they're worthy investments worth making for your company and your profitability — as well as your company's culture. Take the opportunities now to set yourself up for success once the market cycle changes and driver needs again become critically challenging.  
Lastly, something FMCSA Administrator Robin Hutcheson noted in our recent one-on-one conversation about trucking's workforce: Drivers with the longest tenures have the best safety records. So it's imperative to find drivers and work to keep them in our industry for the long run, rather than continuing to flex around trucking's culture of fluidity.
Have feedback? I'd love to hear it: lshaver@driverwages.com 
Until next time, be safe and well. ~Leah