Guaranteed pay has been a growing incentive for recruiting and retention. But is it right for your fleet?
In 2023's third quarter, four in 10 fleets report they're offering drivers guaranteed weekly pay, according to NTI's National Survey of Driver Wages. That's more than double the number of fleets providing guaranteed pay the same time five years ago – 2018's third quarter. In that five-year span, the weekly dollar amount being paid to drivers has grown more than 20%, mirroring the percentage gains of driver wages, according to NTI's National Driver Wage Index.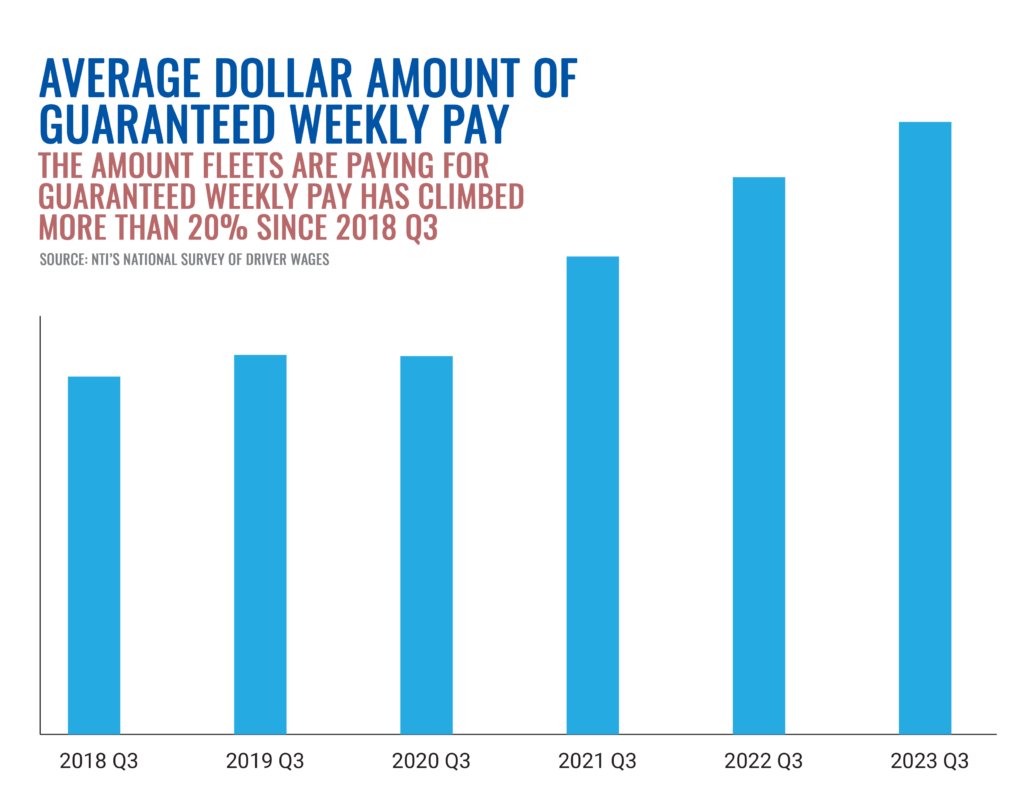 Those numbers underscore the perceived value many fleets see in guaranteed pay as a way to help attract drivers to their fleet and keep them there once hired.  
Read more about the data reveals about driver compensation trends in the current quarter: Driver pay finds a new pattern: 3 trends from the latest driver wages data
Likewise, NTI promotes guaranteed pay as one avenue to mitigating one of drivers' biggest pain points (and one that pushes people from trucking jobs): inconsistent and choppy paychecks week to week that stem from unproductive time on the road, whether due to detention, weather delays, traffic congestion, layovers, or other scenarios that chip into drivers' mileage and thus chip away at their paychecks.  
Is guaranteed pay right for my fleet? 
That's a question NTI discusses often with motor carriers.  
Guaranteed weekly pay can give drivers peace of mind and remove one of their biggest frustrations: Inconsistent paychecks. It also maintains your company's position as a sought-after employer. However, you don't want to put your company in a weaker financial position by providing guaranteed pay.   
Here are considerations for your fleet to evaluate when making this critical decision at your company:  
Can your margins withstand guaranteed pay? 
Guaranteed pay becomes a fixed cost for your business, rather than allowing pay to be a variable cost tied to drivers' productivity. So make sure guaranteed pay doesn't become a financial burden that your company can't meet.  
Guaranteed pay can expose mistakes and shortcomings 
This could be a positive or a negative. But from lack of driver productivity to underlying operational issues, guaranteed pay can shine a light on some of your fleet's bad habits.  
If guaranteed pay isn't right for your fleet or isn't working… 
Find ways to supplement it to still give drivers peace of mind and better consistency in their paychecks.