After four full economic quarters of a downward trending freight cycle, driver pay has settled into a pattern of incremental upward movement both quarter to quarter and year over year, finding a more historically routine rate of growth after two years highlighted by surges.  
According to third quarter survey data from NTI's National Survey of Driver Wages and the National Driver Wage Index, wages for professional drivers at for-hire motor carriers — per-mile and hourly pay, as well as incentives and bonuses — haven't stopped climbing, albeit growth is more muted than during the 2021-2022 freight boom cycle.  
Across driver experience levels, trailer type, and geographical markets, fleets continue to edge their driver pay higher, according to NTI survey data.  
For example, base mileage pay for drivers across all experience levels is up over 4% this quarter from the same July-September period a year ago. That's a slowdown from the 7-10% annualized gains seen at the peaks during the 2021-2022 hiring binge, but still historically healthy year-over-year gains.  
A look at pay migration over the past year
Tracking the continued momentum in growth of per-mile base pay, the bars in the chart below show 5-cent pay ranges and the percentage of fleets paying in each 5-cent range. While the actual pay data (the 5-cent increments) has been removed, the charts show a clear migration of pay up the scale. The blue columns are current quarter, and the grey columns are the same time period a year ago. The left side of the charts reflect lower mileage pay ranges, and the right side higher pay ranges.  
The takeaways from these charts are that more fleets are paying in higher pay ranges now than a year ago for drivers with one year of experience and drivers with three years of experience: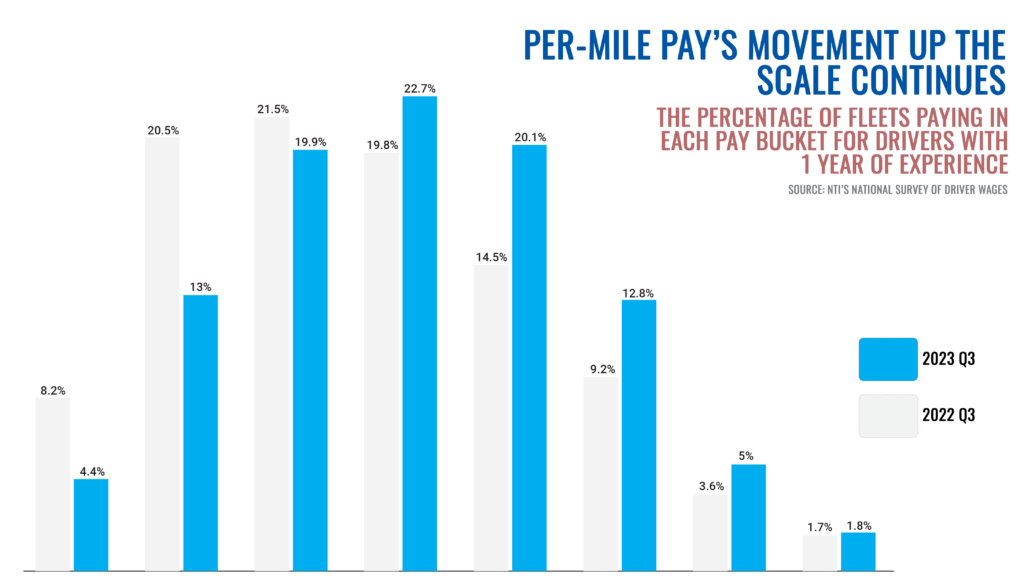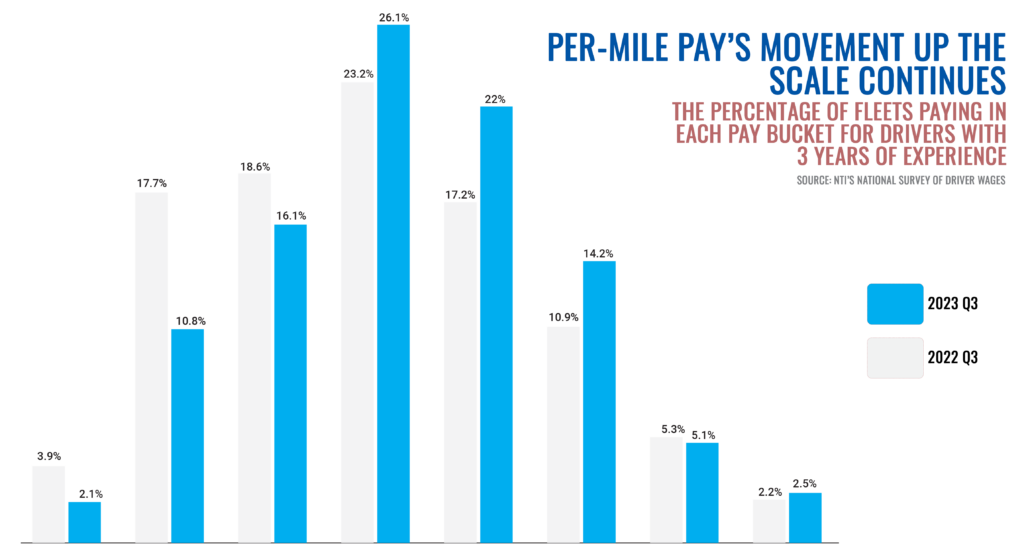 Likewise, NTI's National Driver Wage Index shows the same: Continued pay gains, although at a more moderate pace year over year: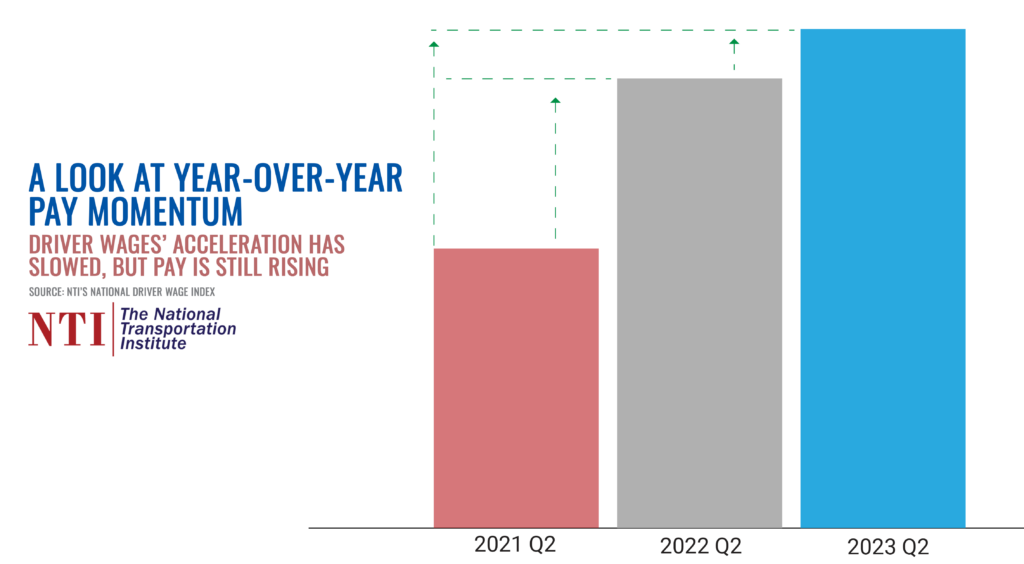 Bonuses and incentives
Notably, despite tamer hiring pressures, fleets surveyed by NTI in the third quarter still are padding recruiting incentives like referral bonuses and sign-on bonuses. As the charts below reveal, both the prevalence of fleets offering such bonuses and the dollar amount for those bonuses are both up year over year. Again, the data has been removed, but the blue bars reflect current quarter and the grey bars reflect the same period a year ago: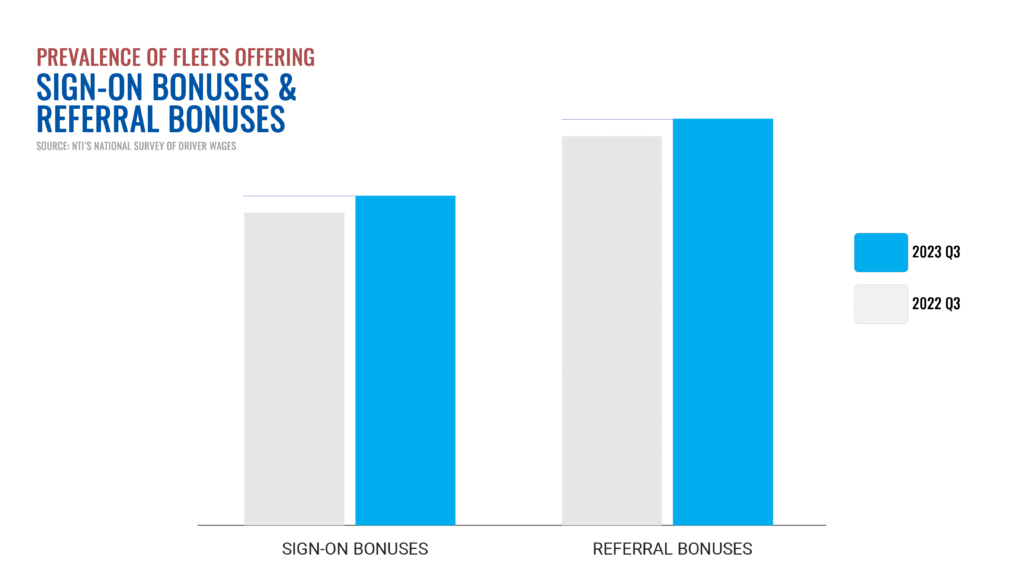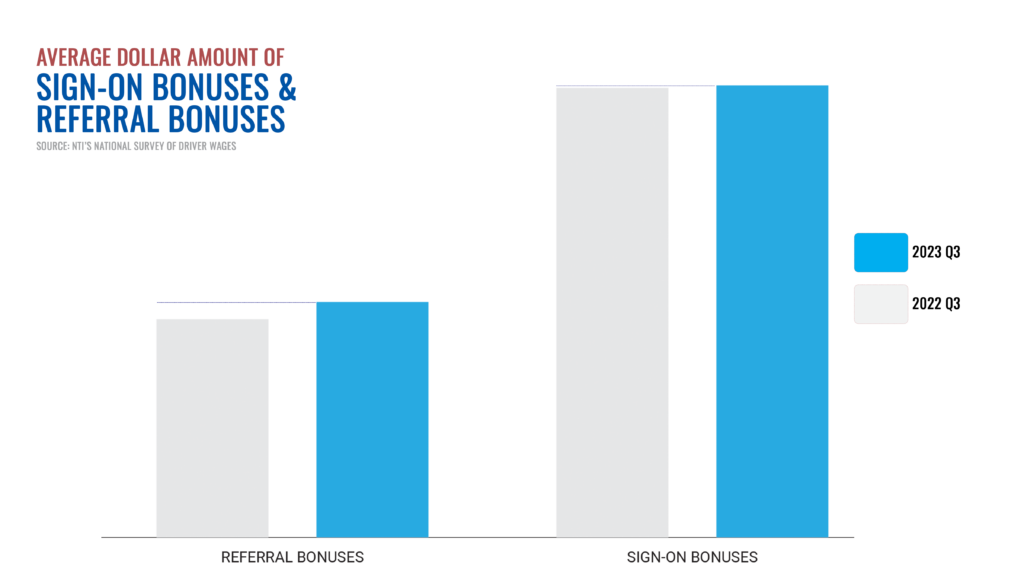 Lastly, other incentives for performance, safety, fuel mileage, and productivity have seen attention this year, too. Both the per-mile payout and flat-rate payments awarded to drivers for those incentives have seen notable bumps from the same time a year ago.