Notice anything about the graph below charting the momentum of driver pay changes over the past 15 years?
After a smooth upward trajectory in the rate of growth of driver pay during the economic recovery after the Great Recession, yo-yoing economic cycles have produced a rollercoaster ride for driver wages momentum in the years since — particularly pronounced in the five-year span from 2018 through 2022: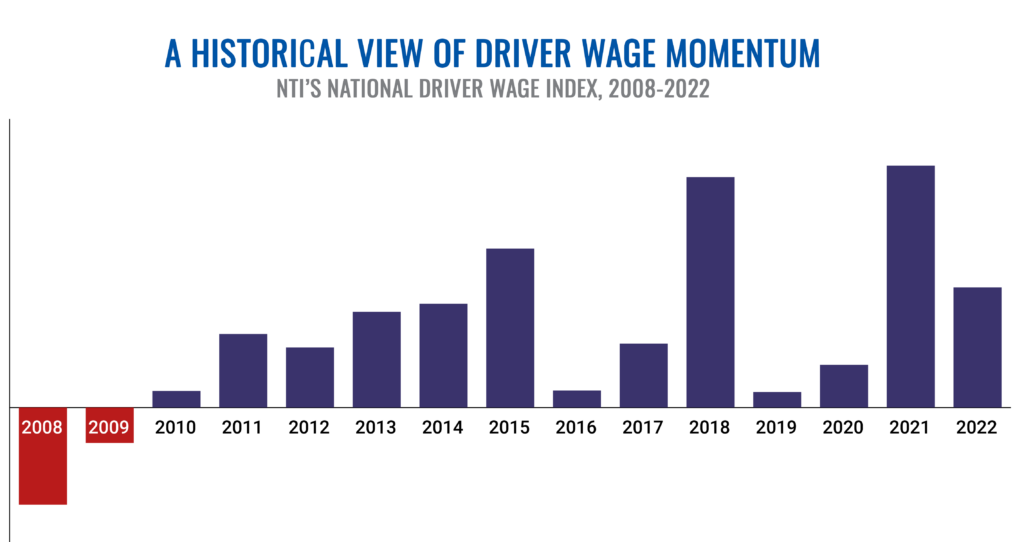 NTI's National Driver Wage Index measures on a quarter-sequential and annual basis the momentum of driver pay changes, tracking wages (mileage and hourly base pay) across segments, fleet type, region, and driver job type.
Reviewing The Driver Wage Index's readings over the past 15 years, the pendulum swings in both the broader economy and the freight markets are evident.  
Of note, wage momentum has never turned negative since the Great Recession. Starting in 2010, every year over the past 13 has seen growth in the wages fleets are paying professional drivers. That's through the mini freight recession in 2016 and 2017, the economic upswing and capacity crunch in 2018, the correction cycle of 2019, and then the oscillating economic cycles of the COVID and post-COVID era.  
So what's next for driver wage momentum? Will the yo-yo cycles continue? Will the current tightening cycle give way to a different pattern? Those answers are obviously largely dependent on broader economic phases, dynamics of the labor market, and how freight flows shift in response to evolving consumer demands.  
In our 2023 Driver Market Forecast, NTI explores in-depth the critical themes and trends impacting driver supply and availability and the factors influencing driver wages in 2023, as well as how driver pay structures could evolve in the coming decade. We also provided our forecast for wage growth in 2023, offering our expectations for where the recent rollercoaster ride goes next.  
To learn more about subscribing to the National Driver Wage Index or any of our other premier survey and benchmarking reports, visit our data solutions page.
To see more resources from NTI, check out our Resources hub or the NTI Blog.