The U.S. is in the midst of a few swirling economic crosswinds.
Inflationary pressures on pricing for everyday necessities like food and fuel have mounted in recent months, crimping consumer sentiments and rattling confidence in the U.S. economy.
That nagging inflation — combined with the global economic consequences of the war in Ukraine, lockdowns and shutdowns in China (which have taken a toll on the Chinese economy, the world's second largest), and climbing interest rates in the U.S. — have prompted a major selloff of U.S. stocks and bonds that's sent key indexes into a nosedive. There's also been a slowdown in the blazing hot U.S. housing market, with mortgage applications slipping in recent months and housing starts falling.
To top it off, U.S. GDP (the measure of the size of the U.S. economy) fell by an annualized rate of 1.4% in the first quarter, according to preliminary data — the first economic contraction since the first two quarters of 2020 and just one of six negative quarters since the Great Recession ended in 2009. By definition, an economic recession is declared when GDP declines for two consecutive quarters, so technically the U.S. is halfway into a potential recession.
Despite those clear drags against positive economic momentum, a few silver linings remain.
First, consumer spending through the first four months of the year continued to climb, according to the U.S. Census Bureau. While that dollar-based metric obviously was in part propped up by higher prices caused by inflation, it also signals a strong resilience in consumer demand through the economic turbulence. Also, despite GDP falling in the first quarter, business spending remained strong.
Secondly, and likely driving the resilience in consumer spending, unemployment has remained at near-record lows, and strong demand for workers at businesses across sectors and throughout the entire economy remains intact.
Those two trends, climbing consumer demand and drum-tight employment, have created what NTI has deemed the "consumption gap" — aka the demand for goods has over the past two years has well outpaced the growth in employment: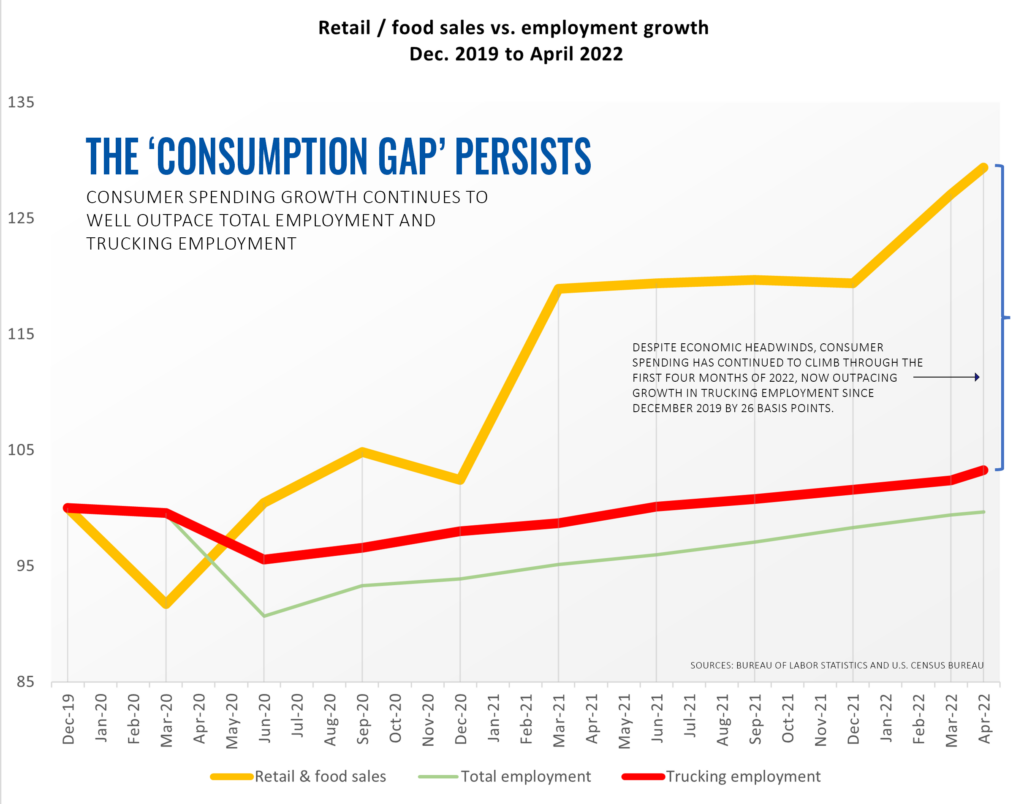 However, because all industries remain in fierce competition for employees, that creates a deterrent for trucking for what would and could be future potential drivers entering the industry. So it's as critical as ever for fleets to understand they're recruiting against all industries — and to put procedures in place that make trucking attractive in this landscape.
Here are six strategies fleets can employ to compete within the backdrop of the "consumption gap."
Evaluate fleet policies on new-entrant and first-year drivers
Inexperienced and new entrant drivers outnumber drivers with two years of experience by about three to one. That's a large pool of could-be drivers often neglected by a large swath of the industry, since many carriers have policies stating they'll only hire drivers with two-plus years of driving experience.
If your fleet's one of them, maybe it's time to create a team internally to evaluate this policy and develop opportunities for entry-level and first-year drivers at your organization.
Mind drivers' unpaid work
More so than Baby Boomers who are aging out of trucking, Gen X (the cohort born between roughly 1966 and 1980) and especially Millennials (those born between 1981 and 1996) have different expectations about the value of their time and how their employers perceive the value of their time. It's a major consideration when choosing a job, but also when choosing to stay with a company.
Like with fleet policies on new entrants, evaluate policies that limit pay for unpaid hours or focus exclusively on per-mile pay. Not only will that ensure you're proving to drivers that you care about the value of their time, but it will help mitigate a beef that leads to discontent — lumpy and inconsistent pay.
Create and articulate career paths at your fleet
Driving is a job, yes. But it can and should be viewed as a first-choice career, and it's important for carriers to treat their driving jobs as true career opportunities. Show drivers what their future could look like, whether that's pointing to earning potential over time, explaining the value of retirement benefits that make their jobs more financially rewarding, detailing next steps like moving into training or management roles, or even becoming their own boss as an owner-operator.
Ensure you're benchmarking wages and offering competitive comp packages
Turbulent economic periods are some of the most important times for your fleet to be monitoring and benchmarking compensation packages to ensure you're paying competitive wages and accessorials and providing strong benefits — particularly with the labor market so tight and with so much competition from other industries. If a driver (or any employee, for that matter) feels like their pay is inadequate or they could earn better benefits elsewhere, why would they stay? That's a question your company will need to grapple with.
Also, it's vital to benchmark wages as far upstream as you can. Use driver wage benchmarking when setting freight rates so you can piece in enough pay not only to keep drivers in seats but to build a rewarding and secure career for drivers.
Consider ways to engage with owner-operators
If your fleet's looking for capacity, start finding avenues to build relationships with the tens of thousands of new-entrant owner-operators and small fleets that gained operating authority over the past 18 months. Are there programs you can put in place to attract them? Can you help them weather the current market and establish a mutually beneficial relationship? Could you establish an IC program if you don't have one? These are all questions your fleet could be actively considering.
Get creative with pet and passenger policies
Again, generationally, expectations are different for Gen Xers and Millennials. They want their pet pals in the truck with them as company. And for women drivers, they like the security of having a pet with them in the truck. So consider changing your fleet's policies to allow pets if you don't, or even encourage drivers to bring their pets on the road with them.
Also, take a look at passenger policies. Times have changed dramatically over the past two years, and drivers who are parents need the flexibility of having their children ride with them while they attend school remotely or when they can't find adequate child care.
If you need accurate data to benchmark your driver wages or need guidance on establishing any of the policies above, contact The National Transportation Institute.