Earnings for professional truck drivers are still climbing despite an ongoing freight market correction cycle that's been lingering for well over a year and which has chipped into motor carriers' revenue and profits. 
The latest data from NTI's National Survey of Driver Wages, compiled and published for 2023's fourth quarter, shows that even through that challenging macro-business environment, trucking companies are still instituting positive pay changes for their drivers.
With fourth quarter data now published, the full-year wage picture is becoming clearer. Below, we've outlined the key trends and takeaways identified in 2023's fourth quarter driver compensation data.
(Click any of the charts to view them in larger detail.)
Driver wages still show growth: Here's what we're looking at
A few notable trends within this quarter's National Survey of Driver Wages data still highlight that fleets are raising pay for drivers, and at a steady and incremental pace.  
Looking at base per-mile pay for company drivers across equipment types, per-mile pay is still growing for drivers of all experience levels year over year. The gains quarter to quarter are still more muted, but comparing 2023's fourth quarter to the same quarter a year ago, per-mile pay on average grew 3% from the same time a year ago.
Subscribers to NTI Insights in NTI's National Driver Wage Index can view in the NTI Subscriber Portal the percentage of fleets paying within 5-cent pay buckets from 20 cents and upward. As we've pointed to regularly throughout the year, that data shows pay is still moving noticeably up those 5-cent pay ranges. In this chart, you can see the difference in comparing two 10-cent increments — a jump in fleets paying between 50 and 60 cents per mile and a comparable dip in fleets paying between 40 and 50 cents per mile: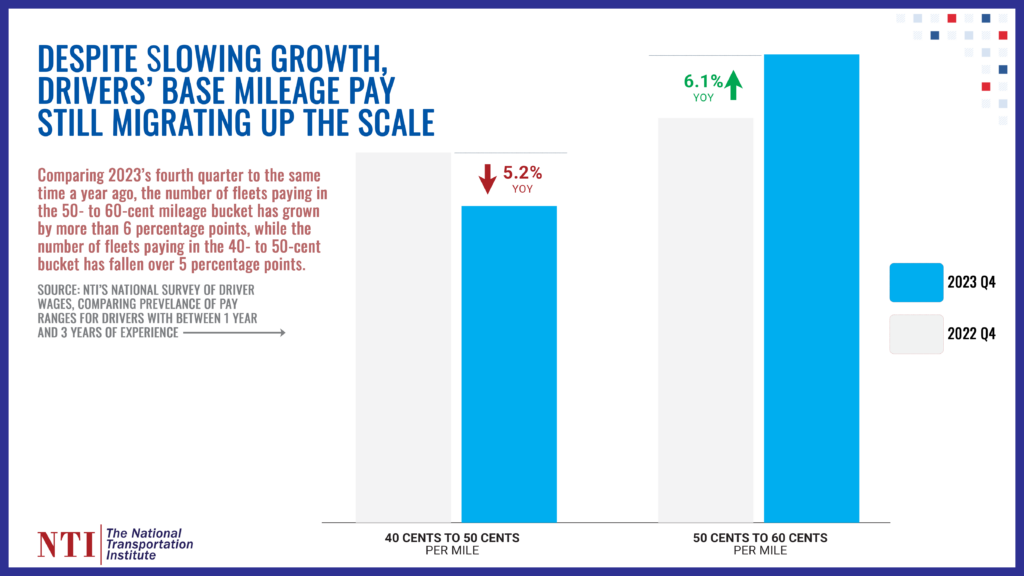 Fleets' pay focus shifts toward experienced drivers
Throughout much of the economic recovery and freight market run-up in 2021 and 2022, wage growth for drivers with one year of experience outpaced that of their more experienced counterparts — particularly in late 2021 and into 2022. Comparing 2020 Q4 pay data to 2022 Q4 data by experience level, drivers with three years of experience saw the biggest wage gains, followed closely by those with one year of experience. Their percentage gains doubled that of cap earners — drivers with the most experience and the highest pay.  
However, throughout 2023, that trend has flipped, with cap earners now seeing the largest percentage pay gains year over year. While cap earners have only seen a slight dip in their per-mile pay growth, gains for drivers with one year and three years of experienced have fallen: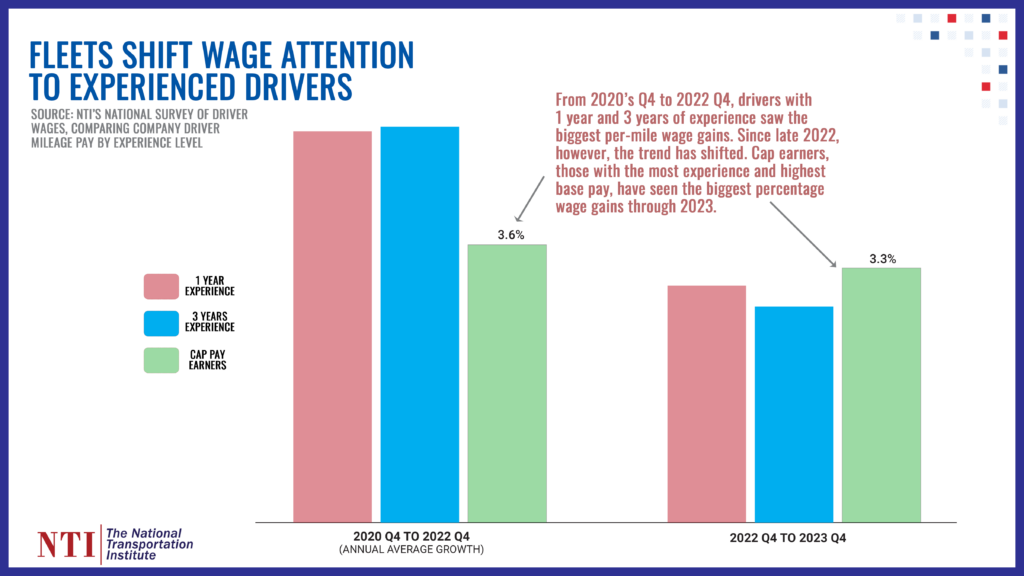 One other notable data highlighting the wage momentum from recent year: When comparing pay by experience level — drivers with one year of experience are now earning more per mile than cap earners were in the final quarter of 2020: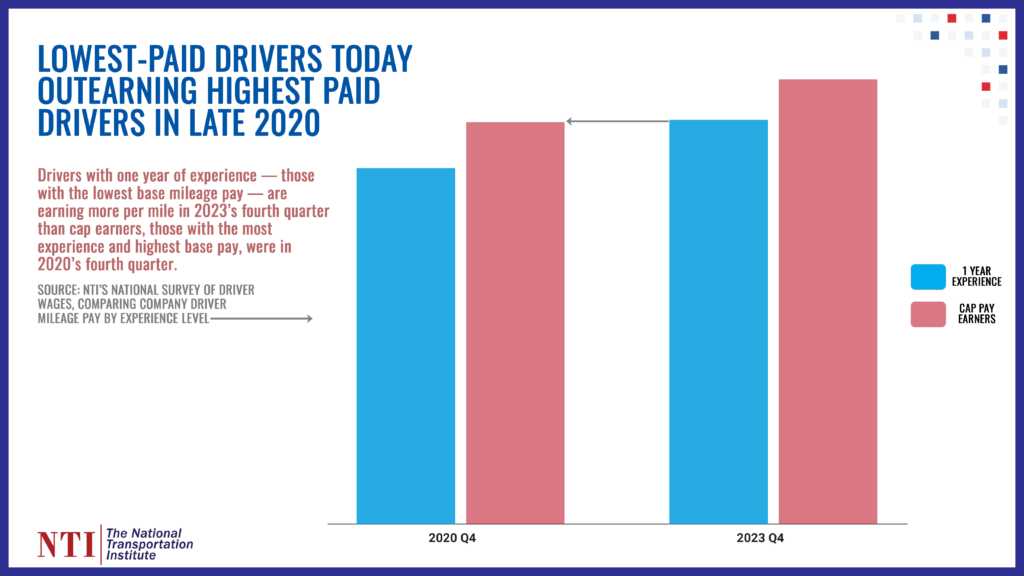 Reading the tea leaves of sign-on bonuses and referral bonuses
Throughout the year, despite hiring needs slowing and an industry imbalance of freight demand and trucking capacity, sign-on bonuses and referral bonuses continued to outpace 2022 in both prevalence and amount.  
That trend changed this quarter. While prevalence of those recruiting incentives grew — aka more fleets report offering those bonuses than a year ago — the dollar amount for both slipped by just a sliver comparing 2023's fourth quarter to the same period a year ago: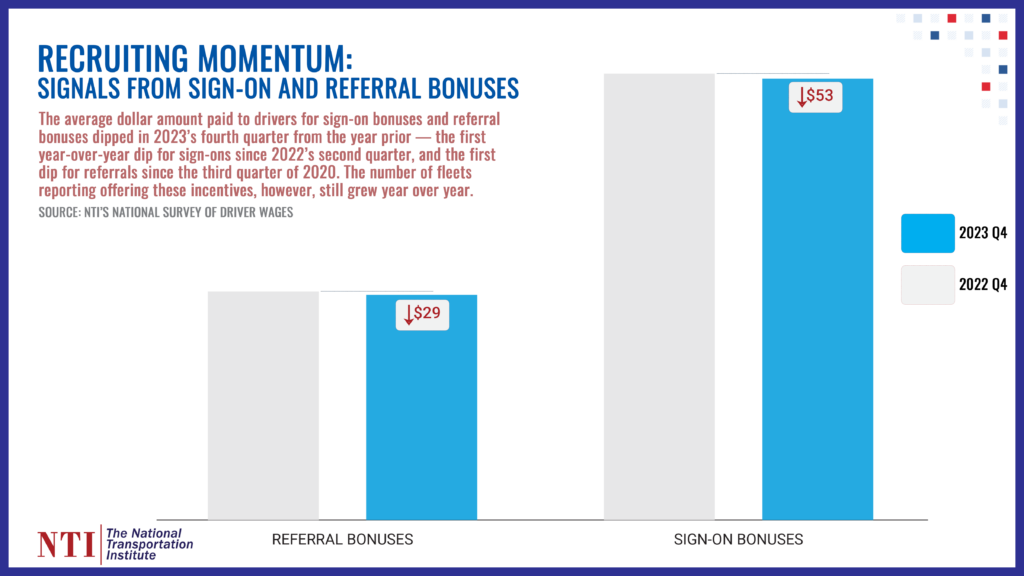 Sign-on bonuses have been slowly falling quarter-to-quarter throughout the year after cresting in 2023's first three months. Referral bonuses, meanwhile, have been flat through the year.