Driver wage gains saw a renewed momentum in 2023's second quarter, showing a little life after gains were mostly flat in the last quarter of 2022 and the first quarter of 2023, according to the latest data from NTI's National Survey of Driver Wages and National Driver Wage Index. Also, a notable trend from the pandemic recovery years of 2021 and 2022 reversed course this quarter, as highlighted below.
Here are a few key trends and takeaways from the current quarter's driver wages data tracked and analyzed by NTI:
The most experienced drivers saw the biggest percentage pay gains
Throughout 2021 and 2022, with driver hiring pressures ramped up and with fleets competing for the industry's new-entrant drivers, wage momentum was the strongest for drivers with a mere one year of experience. However, current quarter data shows that trend may have ended, with fleets instead rewarding their most senior, highest-earning drivers with the largest per-mile pay increases.  
By percentage, so-called cap earners — professional drivers with the most experience and earning the highest pay — saw their wages increase the most quarter to quarter. Cap earners also gained ground in year-over-year percentage pay gains in their per-mile base pay, while growth for drivers with one year of experience slowed. Gains for drivers with three years of experience slowed slightly too both year over year and quarter to quarter.  
This chart tracks the quarter-sequential pay gains in 2023's second quarter and 2022's second quarter — showing the trend reversal: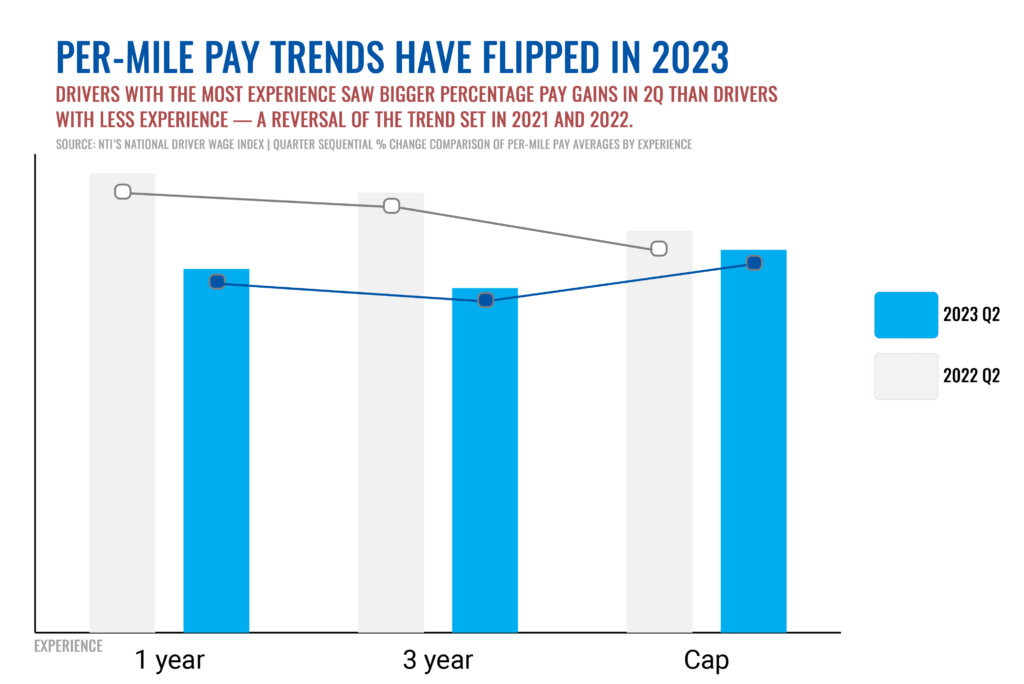 Wage momentum picked up after two stagnant quarters
Per-mile pay for all drivers of all experience levels saw larger gains this quarter than in both the prior quarters — the last three months of 2022 and the first three months of 2023, when pay momentum was more muted. Also, per-mile pay growth across experience levels held near 5% year over year, according to NTI's National Survey of Driver Wages. That's down slightly from the large year over year jumps seen in 2022 and 2021, but still historically strong.  
Base pay's migration continues
Tracking with the continued momentum in growth of per-mile base pay, wages continued this quarter moving up the pay scale, as noted by this chart below compiled from survey data from the National Survey of Driver Wages and the National Driver Wage Index. While the bucket ranges have been removed, each set of columns in the chart represents a 5-cent pay range, with the blue columns revealing that more fleets are paying in higher pay-range categories in 2023's second quarter compared to a year ago. The left side of the chart reflects lower mileage-based pay ranges, and the right side reflects higher pay: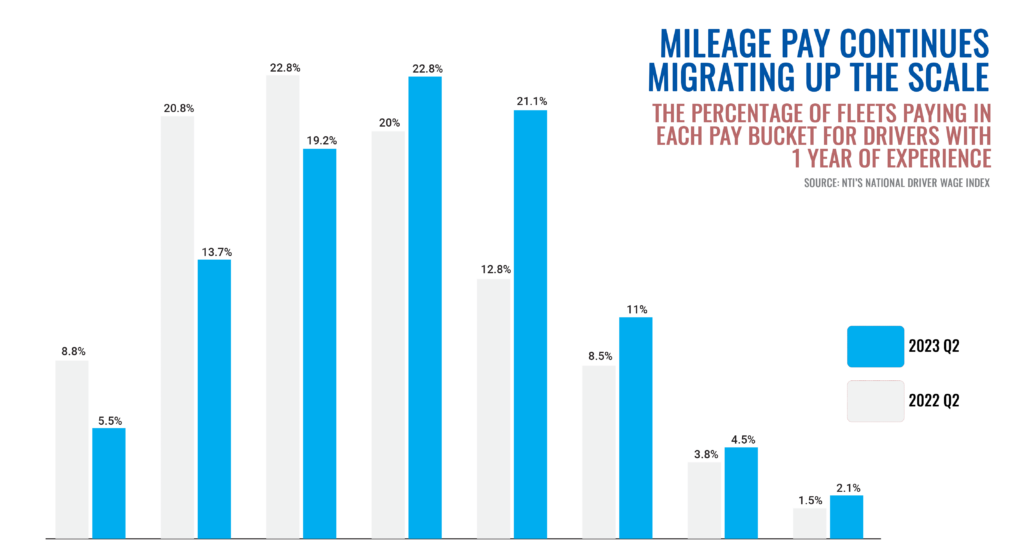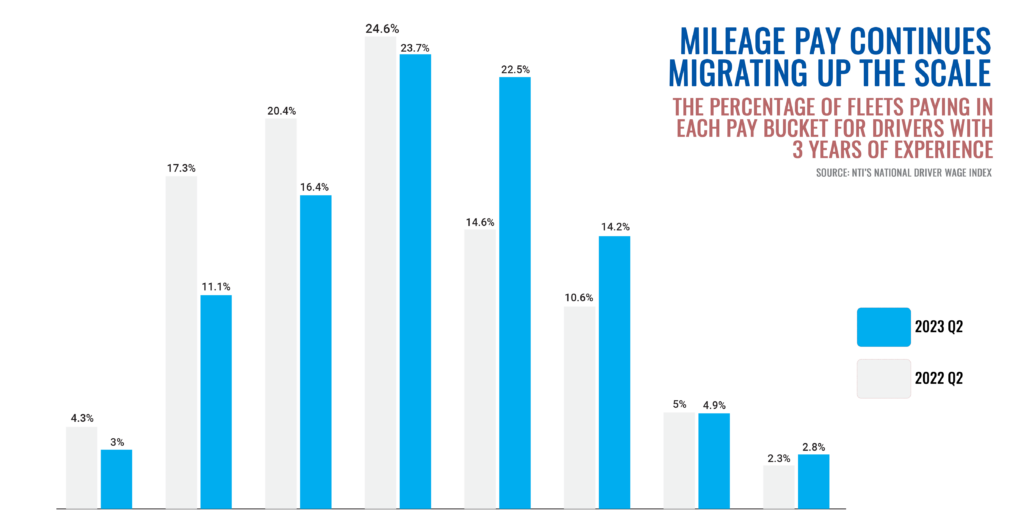 Fuel, productivity, safety incentives see healthy gains
Beyond base mileage and hourly pay, fleets this quarter are also putting a greater emphasis on programs that ultimately help boost profitability while also rewarding drivers. According to survey data from the National Survey of Driver Wages and National Driver Wage Index, both per-mile and flat-rate incentives for fuel efficiency, performance, productivity, and safety saw gains year over year. Flat-rate incentives for those awards, in particular, saw big jumps, with some offerings growing by a few hundred dollars on a quarterly basis.
To see specific data within any of these categories in the NTI Portal and to benchmark your company's driver wages, incentives, bonuses, W2 earnings, and benefits in the markets your fleet operates, see our Data Solutions page to learn more about our subscription options or contact our team of experts today.