Labor market and driver supply constraints remain predominant
While the freight market, demand for capacity, and freight rates play pivotal roles in dictating wage momentum of professional driver wages, those forces increasingly are being outgunned by broader structural dynamics of the labor market and perpetual constraints to the supply of professional drivers: 
The labor market remains historically tight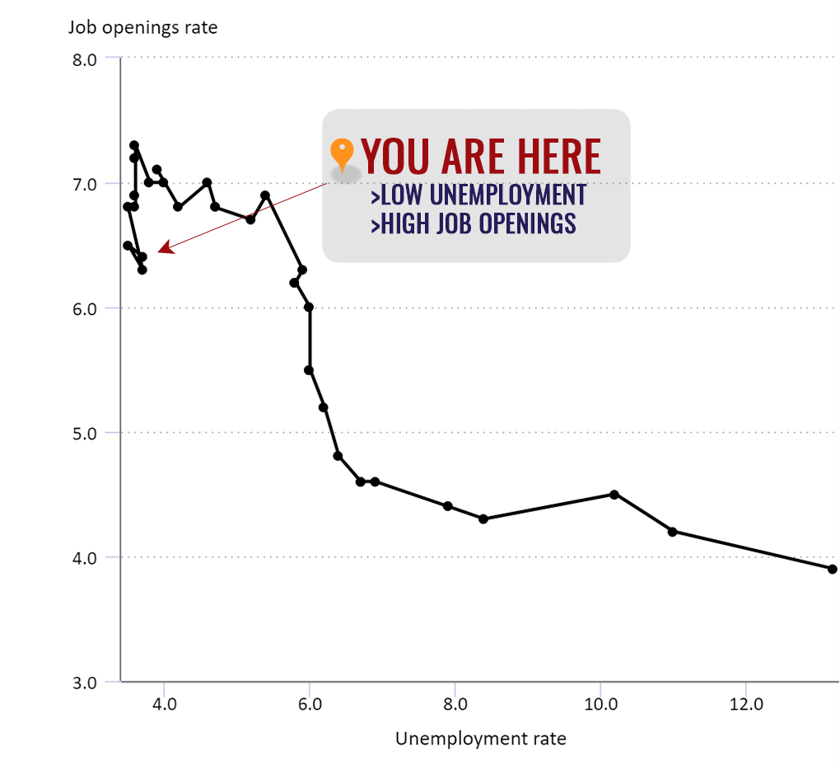 Any conversation around supply and demand dynamics of the driver market must start with putting trucking's labor needs into the broader context of the U.S. labor market.  
The U.S. labor market remains historically tight, particularly for industrial workers (aka blue-collar workers). The U.S. has a systemic blue-collar labor shortage. Competition is fierce among all industries vying for industrial workers.  
Trucking jobs often are considered less desirable when compared to other blue-collar fields that offer similar pay but better schedules and more home time.  
Unemployment in the U.S. has remained below 4% since December 2021. While a rate between 4-5% presents a tough environment for fleets to recruit and retain, any unemployment reading below 4% represents a critically challenging situation for trucking fleets to hire and maintain personnel.  
Not only has unemployment remained at record lows, but job openings have held firm at near-record highs in the same time period. See the Beveridge Curve here, which charts the unemployment rate compared to the job openings rate. The black line represents 2020-2022. You can see the curve shift from high unemployment and low job openings to record-high job openings and record-low unemployment. 
Even in a recession, it's largely expected that job losses and hiring slowdowns would impact white-collar workers more significantly, while industrial and blue-collar jobs would be more shielded.  
Perpetual driver supply constraints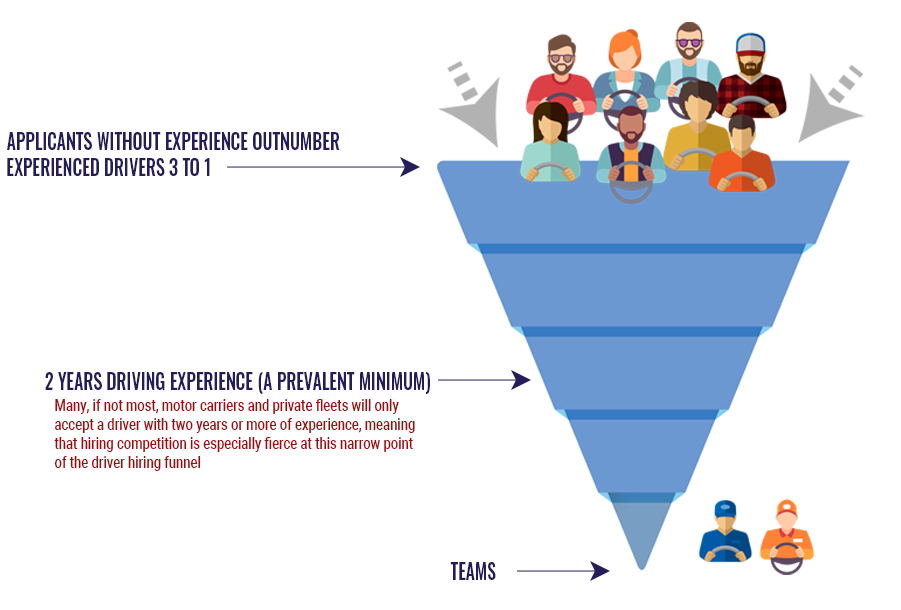 Specific to trucking, the implementation of the Drug & Alcohol Clearinghouse in early 2020 has sidelined over 120,000 drivers as of the beginning of 2023, and that number continues to grow every month. Only a fraction of those drivers have completed the return-to-duty protocol — but many fleets wouldn't hire them if they did, meaning those 120,000 (and growing) drivers have basically been removed from the driver pool. To put that number into perspective, between January 2020 and the end of 2023, the Department of Labor reports only 110,000 net new driver jobs added according to payroll data of for-hire motor carriers.  
Age and health factors also continue to plague driver availability. Retirements and age-outs annually account for a significant source of industry exodus, and health-related issues sideline more than 300,000 drivers annually.  
The industry also still struggles to connect with and hire younger generations, with the average driver age stuck at 54 years old. While hundreds of thousands of new drivers earn CDLs and enter the industry every year, attrition and churn make it difficult for the driver pool to meaningfully grow to meet demand.  
What's more, many if not most fleets require a minimum of two years of driving experience to be hired. So the annual wave of new entrants and exits does little to grow the pool of drivers with two-plus years of experience and to address the point in the driver supply funnel where most fleets begin recruiting.
What can fleets do? Addressing these issues requires fleets to be creative and driver-focused in their approach to recruiting and retention programs. Make health and wellness a critical fleet-wide concentration that puts drivers first. Implement hourly pay or guaranteed weekly pay to bridge the gap for drivers' unpaid working hours. Find ways to hear drivers' honest feedback and work to address issues to bolster retention. Utilize KPIs that take an honest assessment of your fleet's performance in driver retention and build pillars to address weak spots. Lastly, ensure you're benchmarking wages and benefits so drivers are compensated appropriately and have access to valuable resources like health insurance and retirement savings.
A shift toward local driving jobs
While long-haul jobs gained ground in the back half of 2022 and the monthly mix of long-haul vs. local returned to the pre-pandemic trendline, local jobs accounted for 44% of all net trucking jobs added between January 2020 and November 2022, according to data from the Bureau of Labor Statistics. BLS doesn't yet parse its data with regional designations, and it only accounts for payroll data of for-hire trucking companies. However, the trendline during the course of the pandemic was pronounced: Opportunities were available the local level and drivers gravitated toward them.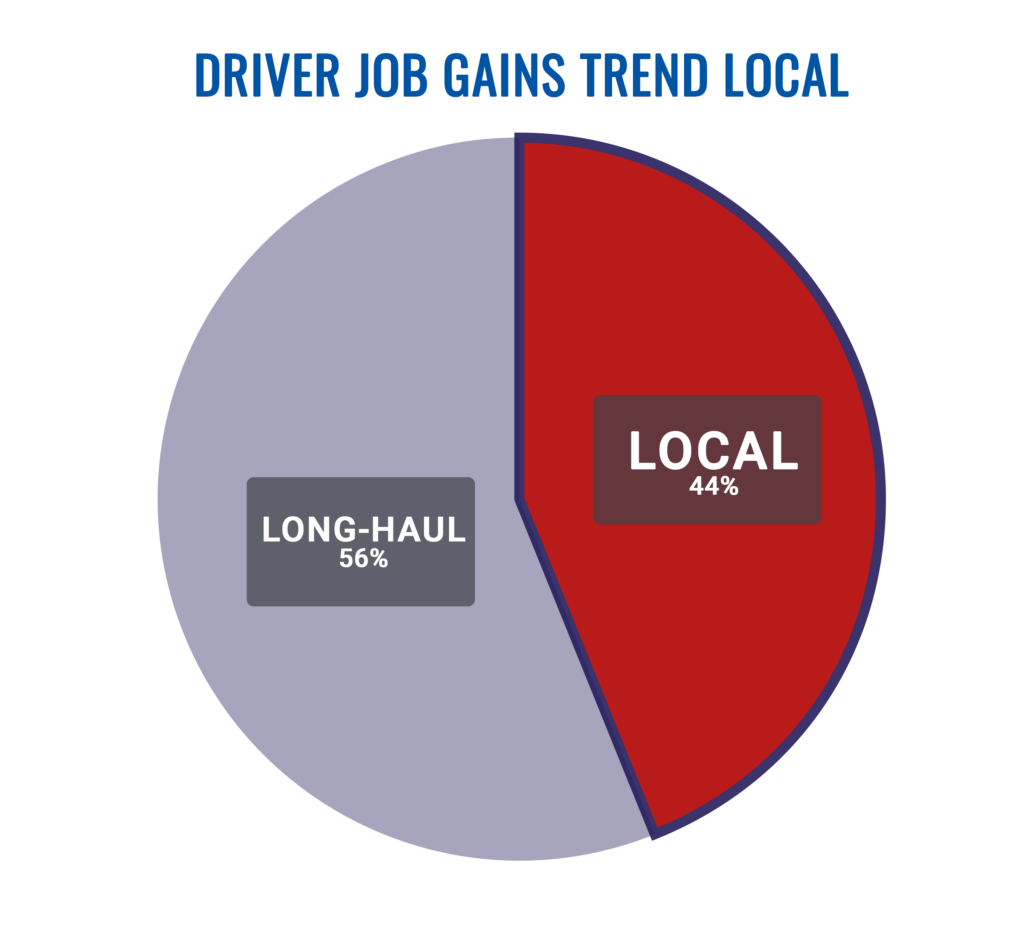 Since January 2020, 44% of net trucking jobs gained have been classified as local jobs. That's despite still only accounting for 27% of total trucking jobs — a clear trend toward local in recent years.
Source: U.S. Department of Labor's Bureau of Labor Statistics
Driver wages outlook for 2023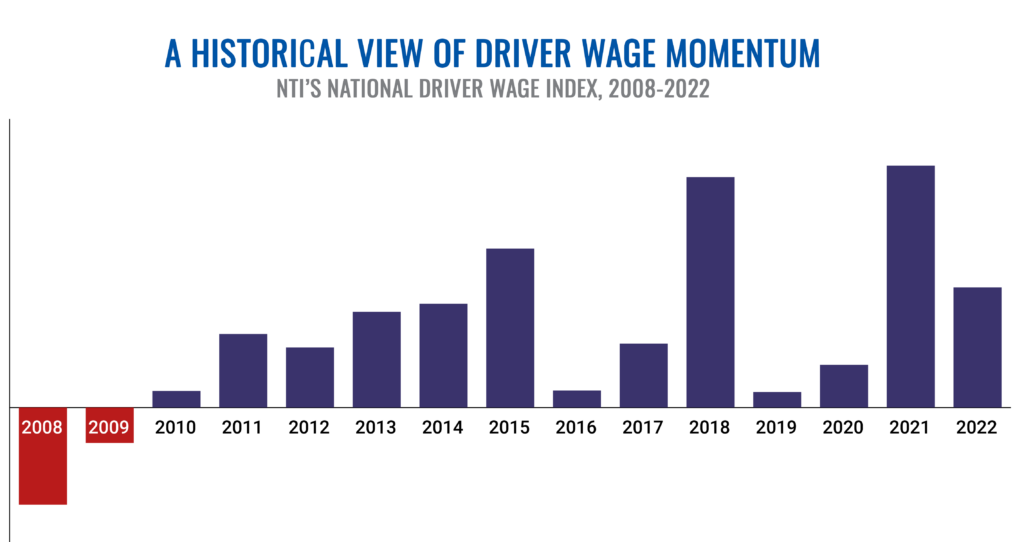 The 2020s have been and will continue to be seminal years for driver wages.  
According to NTI's National Driver Wage Index — which tracks driver wage momentum (mileage and hourly base pay) across segments, fleet type, region, and driver job type — professional driver wages climbed 15% from the middle of 2020 through the first half of 2022.  
Driver wages saw modest gains in the last half of 2022.  
NTI's forecast for 2023 is for driver wages to grow on average 2.6%.
What's more, wage acceleration among for-hire fleets is most pronounced for drivers with the least amount of experienced. Newer drivers expect rapid and frequent wage growth, and fleets have been delivering on those expectations.  
Private fleet vs. for-hire fleet wages:  A shifting trendline
The spread between for-hire fleet and private fleet average annual wages was over $18,000 in 2022. Prior to the pandemic-era economy, for-hire fleets were steadily gaining ground on an annual basis.
However, over the past three years, as the demand for drivers became pressing, private fleets turned up the heat and began intentionally and aggressively raising pay to widen the gap and ensure that private fleets positions continue to be seen as pinnacle driving opportunities. What's more, instead of blanketed increases across their company, private fleets homed in on markets where hiring and retaining are toughest, implementing the most robust pay gains in the most competitive markets.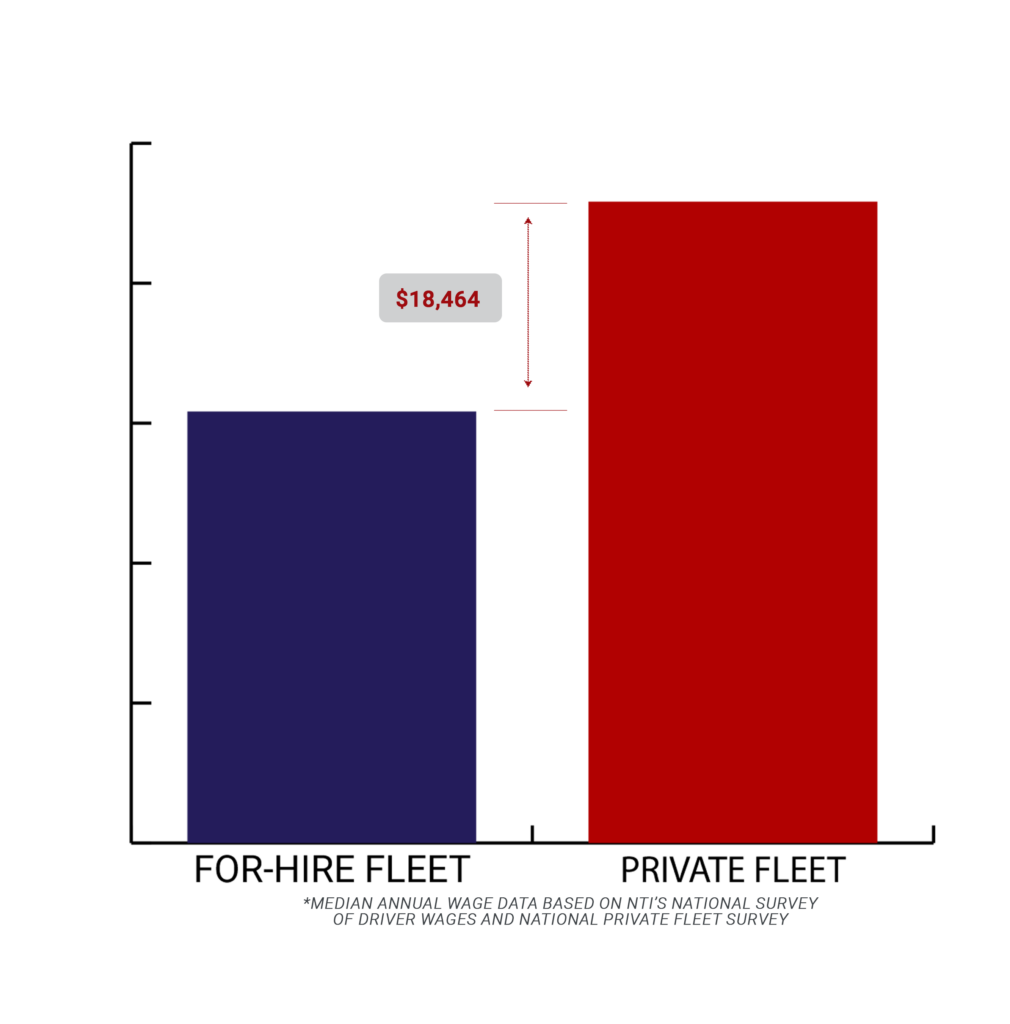 Long-term outlook: The evolution of driver pay
Not only has driver pay seen accelerated upward momentum as fleets work to attract new hires and to retain their existing personnel, but the ongoing jolts to the U.S. labor market have spurred motor carriers and private fleets alike to evaluate and implement structural changes to how they hire and pay their professional drivers. 
Long-term, NTI expects these trends to continue.
Also, the industry must contend with a convergence of other factors: Shifting generational attitudes as Baby Boomers and Gen X cohorts retire and age out of trucking and are replaced by Millennials and Gen Z cohorts; perpetual and systemic blue-collar labor shortages; and rising insurance costs that will continue to push pay packages that promote safety over productivity (such as hourly and guaranteed pay options, while per-mile will continue to decline in prevalence).  
Those trends point to a continued shift toward location-based hiring that puts an emphasis on more home time, more predictable and flexible scheduling, and more predictable and understandable compensation plans.